I've got some new changes coming to the blog soon.
But, the first change is already here….a different hosting solution for files!  Now, instead of having to go 4shared (which honestly, can be a big pain in the tushy sometimes!), you will be able to direct download everything from the blog!
The next change will be coming soon…it's not here yet…. for now you can still download all my commercial use items for free.  When I do change this, you'll have to purchase either an individual commercial use license or an unlimited commercial use license to use my stuff commercially after a specific date once that change is put in place.  What does an unlimited commercial use get you?  Unlimited use of my stuff such as…using my items to create digital scrapbook items for resale, creating your own CU items from MY CU items (such as overlays, word art, etc.), and it also includes using my CU items to create art and tshirt designs to sell at online sites like cafepress.com or zazzle.com!
Once the change is in effect, you can still download and use EVERYTHING I create for personal use/scrap for hire/and scrap for others.  But…if you want to use the items COMMERCIALLY, you'll have to purchase an individual product commercial use license ($1.50) or an unlimited use commercial use license ($15.00) to use them commercially.  I'll have a link to paypal on the blog where you can quickly pay and get to designing!
I'm working hard to make sure that once the license is in effect, that you will get AT LEAST one new CU item every single day to download.  I've got a sketchbook just FILLED with doodles and drawings I'm in the process of scanning and turning into brushes for you to use.
For today…everything is still free….I may put the new CU license into effect this week.
For now…..here's a set of CU brushes you can use for CU or PU…FREE (no license needed)…
Download link below preview: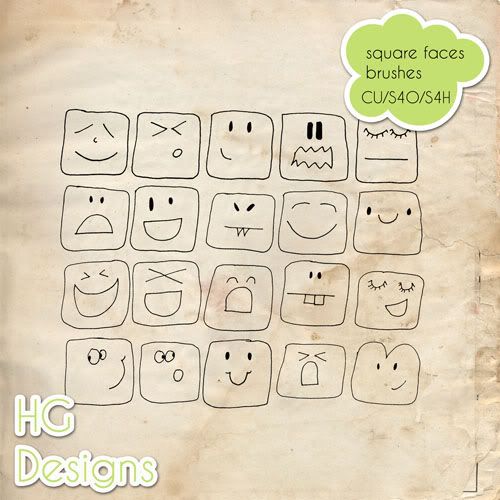 Download HERE
or at 4shared HERE